About Tasmania - An Introduction
Australia's largest island and smallest state is a truly magical place to visit.
Tasmania is a heart-shaped island, around half the size of England. Its compact size and great diversity of scenery make it the perfect holiday destination for touring by rental car or campervan.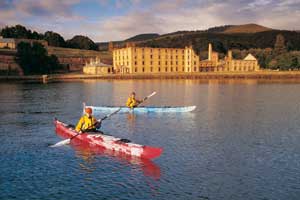 'Tassie,' as it is affectionately known, is called the 'Holiday Isle' for its easy going, light hearted lifestyle. This is a place for adventure and exploration, with huge contrasts. Within a two week period you can circle the island, exploring craggy mountains, wild rivers, ancient rainforests, towering sea cliffs, isolated beaches and tranquil lakes. You are breathing the purest air in the world. At the same time you will enjoy the peaceful ambience of Old England - old colonial villages, dry stone walls, Devonshire teas and cosy old-fashioned B&B guest cottages.
There's an otherworldly quality to Tasmania. The west coast has a dark landscape of brooding mountains, lashed by the infamous 'Roaring Forties' winds. Inland are wild rivers and glacier-carved ranges, forming a magnificent World Heritage Area wilderness of primordial forests. This is a mecca for trampers and naturalists and the last habitat of the fearsome thylacine - the 'Tassie Tiger.' The northern coast is heavily populated and the east has deserted beaches and bush-clad hills. The south possesses an Old Worlde charm in the fascinating heritage buildings of Hobart and the sombre reminders of a convict past at Port Arthur.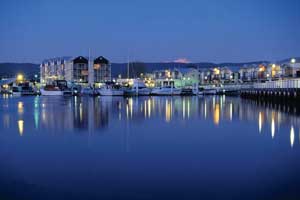 Backpacker Sleepervans Tasmania AustraliaThis 'land that time almost forgot,' separated from the mainland 10,000 years ago. It is an intriguing 'world apart,' with a temperate climate, four distinct seasons and a temperature range from an average of 13°C in winter to a pleasant 22°C in summer.
You will receive a warm welcome wherever you travel in Tassie and you will enjoy the island cuisine, with its superb seafood, delicious fruits and wonderful cool-climate wines.
There's so much to see and do in this revitalised old penal colony that you need to start now.
Transport yourself to Tassie for an arrestingly good time.