Tasmania Itineraries - The Rivers Run
After experiencing the scenic delights, adventurous challenges and mind-blowing heritage treasures of the Convict and Huon Trails, many visitors can't wait to head north to Tassie's World Heritage Area.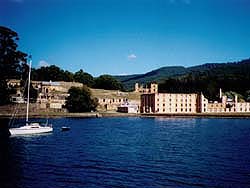 The route follows the winding course of the mighty Derwent River up to Lake St Clair, one of the precious gems in the Holiday Isle's tourism crown.
Leaving Hobart, the Brooker Highway soon takes you to the fine heritage buildings of New Norfolk, home of the oldest Anglican church in Australia. Water sports are also on the agenda here with a choice of wild jet boat and rafting action, or a gentle canoe ride and fishing excursion.
Just out of town you can develop your angling theory skills by feeding trout and salmon in the oldest hatchery in the southern hemisphere. Knowledge of the finer points can be gleaned at the Museum of Trout Fishing and the Native Fish Interpretation Centre.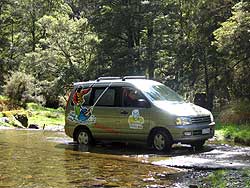 Proceed north to the nature lover's nirvana known as Mt Field National Park, perhaps stopping en route to admire the hop fields and colonial oast houses in Bushy Park. Something wild is bound to be waiting for you at Mt Field, probably a perky platypus, tigerish Tassie devil or maybe a wicked woolly wombat. The Interpretative Centre will direct you to these cute critters and the beautiful bush tracks leading to the Pandani Grove, Tall Trees and spectacular Russell Falls. There is an option for a side trip to Gordon Dam doing the Creepy Crawly Walk on the way.
Continue north via the historic town of Hamilton to scenic Lake St Clair, Australia's deepest lake. This is the southern gateway to the Cradle Mountain-Lake St Clair National Park and the starting point for a host of walks from one to seven hours ranging from gentle to strenuous. The Park Centre will point you in the right direction and also give advice on brown and rainbow trout fishing, for which this area is world renowned. Don't be deterred from walking, by the sight of weary Overland Trackers - this World Heritage Area trek will rate amongst their most memorable experiences.