Tasmania Itineraries - West Coast Wilderness Way
Queenstown, Tasmania, like its New Zealand namesake, is a centre for adrenalin adventure activities and also the gateway to the magnificent West Coast Wilderness Railway.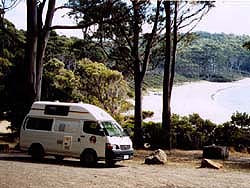 Travellers on the Rivers Run from Hobart can sample the delights of Lake St Clair and then continue to Queenstown by driving northwest across the World Heritage Area - one of the largest tracts of temperate rainforest in the world.
From Lake St Clair follow the Lyell Highway, stopping briefly for a breath of fresh mountain air on the Franklin River and Nelson Falls Nature Walks. Continue through a stark lunar landscape into the 1880's gold mining boomtown of Queenstown. The town is bursting with mining heritage and you will feel the urge to get down and dirty in the underground chambers with a miner's hat and belt. Emerging into sunlight again the thing to do is jump on a mountain bike and career down a precipitous slope to shake off the dust. Note how the complete devastation of this treeless waste has left random quartz boulders reflecting sunlight in colours that are starkly beautiful. Other activities include rainforest walks and tours as well as trout fishing on nearby Lake Burbury.
Queenstown's premier attraction is the West Coast Wilderness Railway, which winds around tight curves, using a rack and pinion system to pull the elegant brass and timber carriages up the steep terrain. This 'must do,' three hour run to Strahan is one of the world's great railway journeys.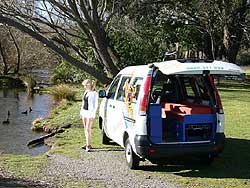 Strahan (pronounced 'Strawn') is a charming harbourside resort. It has shaken off its onetime dreaded reputation as a convict town and now flourishes as the gateway to the World Heritage listed wilderness area on the Gordon River.
Tour boats cruise across Macquarie Harbour to visit the unspoilt Gordon River rainforest for gentle walks and sightseeing. Sea kayaking is also popular, along with horse trekking and 4WD rides over the sand dunes. Sarah Island is well worth a visit to see the 2,000 year old Huon pines and the infamous penal colony, which once housed the toughest and roughest convicts in the land.
Continuing north, Zeehan is soon reached, where the fascinating Pioneer Folk Museum is worth a visit. The Murchison Highway has a side trip from Rosebery to Williamsford, where you can walk along a disused railway embankment to Montezuma Falls - Tasmania's highest waterfall. Further north at Tullah, take a leisurely lakeside horse trek in cool bushland. A twilight canoe trip may see you eyeballing a platypus in his native habitat.
From here the C.132 road leads on to the monumental rock formations, glacial lakes and towering waterfalls of Cradle Country.