Tasmania Itineraries - Convict Trail
For most visitors the first tantalising taste of Tassie magic is seeing Hobart's Old World buildings along the broad reaches of the Derwent River.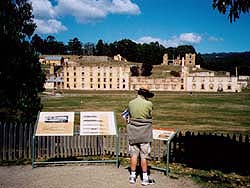 Sipping cappuccinos under the coloured umbrellas of Salamanca Place, you will see the flash of bright spinnakers on the river and the warm sandstone facades of Georgian buildings, now crammed with artist studies, galleries, shops, cafes and restaurants.
To really appreciate the intriguing diversity of maritime, colonial and convict heritage, head out of town through honey-coloured pastures and straggly gum trees to Richmond. This Georgian village is a time warp into the era of cobblestones, slate, handmade bricks, workers cottages and stately manors. See Australia's oldest preserved convict gaol, bridge and Catholic church, as well as the charming Old Hobart Town Model Village.
Continue south-east along the Arthur Highway visiting the craft and antique shops of Sorell and taking a break at Dunalley to sample the super-fresh seafood. Stunning seascapes of the Tasman Peninsula are soon within view - the 1642 landfall of Dutch navigator Abel Tasman, who named the island Van Dieman's Land.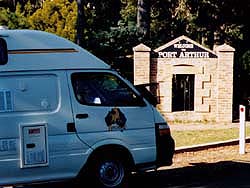 Eaglehawk Neck is one of Tasmania's prime sites for gazing in awe at natural wonders. The adjacent sea cliffs are the highest in the southern hemisphere, with names like Tessellated Pavement, Devil's Kitchen and Pirate's Bay Lookout. A bronze statue of a dog denotes the 'Dog Line,' where a row of savage snarling beasts deterred escapes during the convict era.
Proceeding south you may imagine that you hear the clink of rattling chains, given the heavy ambiance of the convict past here. This 'Hell on Earth' has stories of hardened criminals and tortured souls that send a shiver down the toughest spine. Excellent low-cost accommodation is available, including the chance to bunk down in old penitentiary dormitories and scare yourself to death with ghost stories around the fire. The local people are amongst the friendliest in Australia, so horrors are soon dispelled by transports of delight at the 40 hectares of English oaks and magnificent gardens.