Tasmania Itineraries - Heritage Highway
The midlands route through the centre of the island from Hobart to Launceston, offers a whole complete holiday on its own.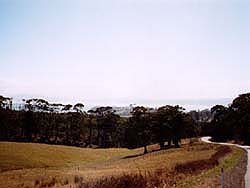 The Heritage Highway is replete with the stories of a colonial past that are completely absorbing. Convicts, bushrangers, farmers, artisans, merchants, writers and painters have all left an indelible mark on this region.
The undulating plains and broad valleys of the Tamar, Macquarie and Jordan rivers support a cluster of small towns where the colonial gentry attempted to recreate a piece of Mother England by building elegant mansions and formal gardens. Today these towns provide the perfect setting for thriving farming, wine growing and gourmet food industries.
From Hobart, the Midland Highway leads to the beautiful stately homes and churches of Pontville and then on to the old bushranger's refuge of Bagdad, now home to the Chauncy Vale Wildlife Sanctuary. Kempton is the next stop, where you can walk among intriguing historic gravestones near St Mary's Church, which was built by convicts in 1839.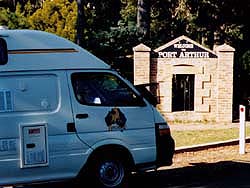 Turn off the highway at Melton Mowbray for a brief sojourn at Bothwell, home of the Australian Golf Museum. Nearby Ratho is the oldest golf course in the southern hemisphere. Bothwell has 53 buildings classified by the National Trust, many built by convict labour.
Oatlands is another historic town with distinctive metal sculptures on the roadside and quaint topiaries to keep you amused. Australia's oldest courthouse is here, along with the country's largest collection of colonial sandstone buildings.
More of these significant heritage treasures await you at Ross. The Macquarie River sandstone bridge vies for the honour of the most beautiful bridge in Australia. It was decorated with ghoulish faces and fine carvings by a convict who later won his freedom for carrying out this task. The Female Factory site and burial ground are the source of gruelling tales. Some 12000 convict women and their babies were incarcerated here between 1847 and1854. On a more uplifting note Ross has a reputation for producing the world's best superfine wool.
Campbell Town, just up the highway, has more colonial treasures on view in antique shops, art galleries and the Heritage Highway Museum. Longford is a compulsory stop as it has Australia's foremost colonial building, a mansion called 'Woolmers,' which showcases early Tasmanian life. The National Rose Garden is here, with a very fine collection of heritage roses.
Approaching Launceston you can enjoy pleasant walks along the banks of the beautiful South Esk River. Evandale is noted for the stately Clarendon Homestead and its antiques and crafts.
After arriving in Launceston you will want to relax in your campervan and reflect on the amazing depth and breadth of history and culture along the Heritage Highway - it is truly a mind-blowing and stimulating holiday experience.