Tasmania Itineraries - Cradle Country Route
Prepare yourself for countless surprises on this journey - stunning rock formations, glacial lakes, towering waterfalls, topiary artwork, a giant maze and wild platypuses.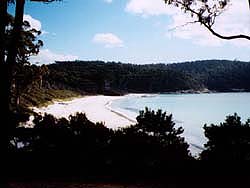 Devonport, home to the Spirit of Tasmania ferries and the beautiful Mersey River, is the starting point for this U shaped route. This route can also be joined from the West Coast Wilderness Way at Cradle Mountain.
In Devonport why not stretch your sense of childish wonderment by visiting the Imaginarium, Science Museum, Maritime Museum and Tiagarra - the site of ancient Aboriginal rock carvings.
After leaving Devonport, take a compulsory stop at Latrobe where the world's first wood chopping competition took place. It is now home to the Axeman's Hall of Fame. Look out for the wild and weird platypus on the Landcare Walk, and later pop in to view the topiary trees in Railton.
Proceed to Sheffield, a quaint town where over 30 murals on buildings, depict its colourful history. Visit a local cheese factory and sample their special farmhouse varieties. This region boasts some unusual names such as Devil's Gate, Paradise and The Promised Land, so don't hesitate to visit Lower Crackpot and get lost in Tazmazia - the world's biggest maze.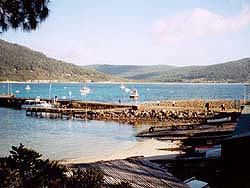 An easy run through Wilmot and Daisy Dell brings you to the Cradle Mountain Visitor Centre. Take time to orientate yourself here as the national park offers a host of top-shelf wilderness experiences - scenic flights, short walks, the famous Overland Track, 4WD tours and horse treks. Nothing can fully prepare you for the first sight of the dramatic peak of Cradle Mountain with picturesque Dove Lake nestling at its feet. Excellent viewpoints can be reached within easy walking distance from the Visitor Centre. The 70 km, six day trek along the Overland Track is one of the world's great walks. It passes through moors, rainforest, waterfalls, rugged peaks (including Mt Ossa, Tasmania's highest) before reaching Lake St Clair. The spectacular landscapes and alpine flora and fauna have earned this region the title of Tasmania World Heritage Area.
Heading north to the coast, you reach Waratah, once the site of the world's richest tin mine. The journey ends at Burnie, the vibrant Bass Strait port where pioneer history, city life and nature's realm are all closely linked. 'Must See' local attractions are the surf beach, penguin colony, platypus centre in Fern Glade and the Farmer's Market. Fossil Bluff offers superb panoramic views and the Annsleigh Gardens and Emu Valley Rhododendron Gardens are an absolute surprise treat to round off a very eventful Tassie touring experience.