Tasmania Itineraries
Tantalising Tasmania, Australia's largest island and smallest state, is a great place to do time.
The 'Holiday Isle' has emerged from its fascinating convict past to offer a very special vacation experience for the world's travellers.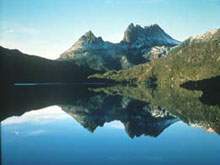 Tasmania is a true-blue, dinkum Aussie wilderness and one of the last untouched frontiers. Similar in size to Scotland or Switzerland, the island is criss-crossed and encircled with excellent roads that make self-drive touring by campervan or rental car, a pleasure. Finding accommodation is rarely a problem with a full range of choice from luxury lodges to camping grounds with modern facilities.
Touring Tassie is an exhilarating experience with amazing sights and surprises around every bend. It feels like a journey of discovery and adventure through colonial villages, misty rainforests, sculpted mountains, racing rivers and alongside sweeping white sand beaches.
One third of the state is conservation estate protected within reserves, national parks and World Heritage areas. Tasmania is just 1% of the Australian land area and part of the Great Dividing Range. It was joined to the mainland around 10,000 years ago until rising sea levels formed Bass Strait, at the end of the last ice age.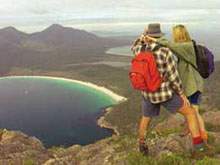 Most visitors arrive by air in the easy-going, cosmopolitan capital, Hobart, with its intriguing blend of heritage, lifestyle, scenery and vibrant culture. Others take the ferry from Melbourne, arriving at the busy maritime centre of Devonport, on the beautiful Mersey River. Other main centres are Launceston, with its graceful Victorian buildings and scenic Cataract Gorge and Burnie, a great place for fun and entertainment.
Variety is the spice of life and Tassie has it in abundance. Visitors receive a genuinely warm welcome and are offered a veritable feast of visual and culinary delights at each point on the journey. Gourmet foods such as lobster, salmon, full-flavoured cheese, fruits and fine local wines are waiting to tempt your palate, served up in the purest and least-polluted place on earth.
The New Zealand Information Network has compiled summaries of the 11 most popular regional touring itineraries. These can each be driven over several days or combined to form a complete round-island tour. The routes are shown in an order that allows for a clockwise circumnavigation of the island, with an optional drive through the centre to Launceston.
Wherever you stop to trek, fish, fossick, snap, shop or ramble on this enchanted isle, we are certain that you will gather up some fond memories. Memories that you will cherish for 'the term of your natural life.'