Tasmania's Hobart
This beautiful city does not flaunt its capital status, but quietly cherishes a rich colonial heritage and a splendid natural environment.
The city's immediate focus is on water, with fabulous wining, dining and shopping on the banks of the broad Derwent River. But turn away from the river and follow the lines of tin-roofed houses climbing the slopes of Mt Wellington and you realise the size and diversity of Hobart's hinterland of untouched wilderness.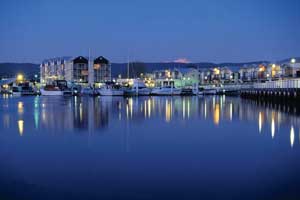 The city gives a definite impression of youthfulness and vigour in the streets and inner-city cafes, bars and restaurants. The lively atmosphere is encouraged by numerous festivals held throughout the year to promote music, performing arts, crafts and public entertainment. Tasmanians claim that Hobart is Australia's most stress-free and loveable city. You will notice the lack of 'attitude' that is evident in mainland metropolitan areas.
Hobart is Australia's second oldest city after Sydney and its smallest state capital. Two features stand out when you first visit the city. First up is the solid maritime background and harbourside ambience. Old salts and the younger generation congregate in waterfront cafes, tucking into fabulous fresh seafood under the midday sun. Secondly, Hobart strikes you as the undisputed 'Capital of Things To Do.' The list of activities and attractions is endless.
Needless to say with all this frenetic activity going on, Hobart offers accommodation to suit all tastes and budgets. Dining options are manifold along the waterfront streets, docks and piers. Quality seafood is on offer everywhere and ethnic restaurants cover the globe. Nightclubs and late night pubs have DJ's and live music, including Irish folk, jazz and blues. The Concert Hall has classical music performances, three main playhouses offer live theatre and of course, entertainment is to be had in Australia's oldest casino at Wrest Point.
Hobart offers a very special holiday experience. It provides everything you could desire - wilderness, lifestyle, beauty, indulgence and luxury. The penal colony is long gone but it's still a great place to do time.