Tasmania Itineraries - Great Western Tiers Route
An ancient mountain chain encompassing 3000 lakes, limestone caves, timeless valleys and a World Heritage Area, more than justifies a side excursion during a Tasmanian self-drive round-island campervan or rental car tour.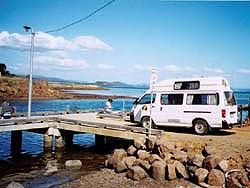 Launceston, Tassie's second-largest city, is the starting point for this 'Go-West' adventure that includes walks, caves, waterfalls, gardens, artists, craftspeople and loads of history. The route follows the B.12 road to Liena, from where you have a choice of returning directly to Launceston or driving north to Sheffield and Railton, joining the Bass Highway at Elizabeth Town.
Hadspen is the first stop on the route to view a pioneering homestead called Entally House. National Trust properties like this are featured in tourist brochures like 'Treasure Trail' and 'The Great Western Tiers,' obtainable from Visitor Centres. Fine historic buildings dating from the mid 19th Century can also be seen at Carrick and Hagley, a short distance along the road. Hagley House, Cliston, Ivy Lawns and Quamby are very fine examples of Tasmania's stately colonial homes.
Westbury sits on an important road junction and offers a fascinating slice of old England in its Village Green and Town Common. The 'White House' and Pearns Steam World provide more scope for delving into the colonial past, but the challenging Westbury hedge maze will bring you back to modern realities in a circuitous sort of way.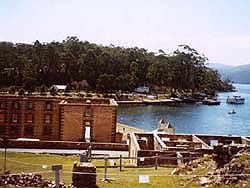 Brumby Campers Tasmania AustraliaContinuing west you soon reach Deloraine, where a visit to the Great Western Tiers Visitor Centre is recommended. The interpretative displays here will alert you to the endless possibilities of this region. Heritage and culture are prominent in the form of a folk museum, antique shops, art and craft galleries and the impressive community art tapestry project called 'Yarns.' Side trips can be taken to the Meander Forest Reserve, Breona on Great Lake, Liffey Falls and Quamby Bluff Forest Reserve.
Underground exploration is the focus at the next stop on the route, Mole Creek. Subterranean wonders and a galaxy of glowworms will delight you in the King Solomon's and Marakoopa caves. Wildlife encounters are guaranteed in Trowunna Wildlife Park and the Devil Research Centre.
To round off this above and below ground exploration saga, drive through Mole Creek Karsk National Park to the very rim of the Tiers at Devils Gullet Lookout and savour the panorama of rugged wilderness and wild beauty.