Tasmania Itineraries - East Coast Cape
Once you have sampled the very satisfying coastal scenery around St Helens, you will not be able to resist the veritable royal banquet feast that awaits you further south.
The east coast route extends down to Spring Beach on the Tasman Highway, which leads you back to Hobart. This route lends itself to self-drive campervan touring as there are many attractive coastal towns and fishing villages, which compels you to stay and explore the area, or simply chill out.
This journey offers a kaleidoscope of colours and landscapes from lush rainforests to pristine white sand beaches lapped by a turquoise sea. It can also be a gastronomic adventure as you salivate over fresh seafoods, fruit, nuts, cheeses and fine wines that are the regional specialty.
Leaving St Helens, you soon pass Scamander's wide, sweeping beaches and follow the coastline to Chain of Lagoons. The Tasman Highway then passes Douglas Apsley National Park and side roads give access to bushwalking tracks such as the Apsley River Waterhole.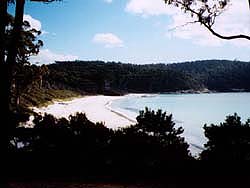 Bicheno is an ideal base for a multitude of outdoor activities. At East Coast Natureworld you can meet the fearsome Tasmanian devils, wombats and native birds or take a guided evening penguin tour. Freycinet National Park is a long peninsula with stupendous coastal views, especially from Cape Tourville and Wineglass Bay- a dreamland scene where a sapphire sea merges with a perfect crescent of sparkling white sand. The peninsula is dominated by a bizarre spine of pink granite peaks where sea eagles ride the thermals and black cockatoos pierce the silence with a raucous cacophony. Other wildlife includes quolls, wallabies, possums, wombats and Tasmanian devils.
At Swansea you can visit a shearwater breeding ground, sample home-grown fruit on a berry farm and admire well-preserved colonial buildings. Fishing, diving and marine life observation can be enjoyed at Triabunna. Further down the coast, Maria Island National Park is a 'Must See' attraction with its wonderful Fossil Cliffs, Painted Cliffs and colonial and convict buildings. The island is just one more highlight on this glorious, unspoiled coast.